Deborah Spink – Kokomelt Interview & Review
Today we join Deborah Spink bodybuilder and fitness model for an interview about her line called Kokomelt 🙂
– Tell us about yourself and how kokomelt started
I have suffered years of hand skin problems and after experimenting at home I finally developed something that worked for me.
As a bodybuilder and fitness model I thought it would be a great Post-Gym-Kit and hence the name of that range. I wanted others to enjoy something that could help dry hands and nourish them naturally.
– What ingredients do you use in the products and are they suitable for vegans too?
The ingredients are all natural butters and oils, without the use of emulsifiers or Parabens.
The products are Water Free and we only use ingredients not tested on animals, and of course we do NOT test on animals.
We do not currently have a Vegan stamp on our products, even though we don't use animal products in any of our ranges.
There is an on going debate about what is classed as Vegan depending on the factories that process the ingredients and what else is processed in that factory, if the machines are run using no animal bi products e.t.c.
I'm not sure if it is worth applying for a vegan stamp as I'm not completely convinced it means that much. This article I find very interesting:
http://www.treehugger.com/green-food/9-everyday-products-you-didnt-know-had-animal-ingredients.html
– What inspired you to start kokomelt?
I am continuously inspired to help people have a better and healthier lifestyle.
Kokomelt has allowed me to continue to do this, because what you put on your skin is absorbed into your body. Eat clean, exercise and look after your skin.
– Tell us about the product line and any upcoming products due out
Kokomelt has 2 ranges, the Post-Gym-Kit and the Royal Gold Collection.
They both consist of creams and scrubs.
The scrubs are soap free and some are combined with essential oils and made into pre cut cubes for easy use for the grab and go society we live in.
The butters are whipped and have a creamy feel to them.
Remember all the products are oil based so you only need a small amount.
The Royal Gold Collection is our Luxury range designed for Spas and the high end retail market. We will be releasing the products that say coming soon on our website. We have developed a Mango butter face cream that will also be on sale soon.
– Where can people purchase kokomelt products?
Please check us out on:
www.kokomelt.com
– Links such as website and social networks
Site: www.kokomelt.com
Facebook: https://www.facebook.com/kokomelt
Twitter: www.twitter.com/Kokomelt
Instagram: www.instagram.com/Kokomeltkokomelt
My Review on Kokomelt sugarscrub cubes in lavender:
The cubes can be found here: http://www.kokomelt.com/shop/4583413782/24-sugar-scrub-hand-cubes-%27lavender%27/7747897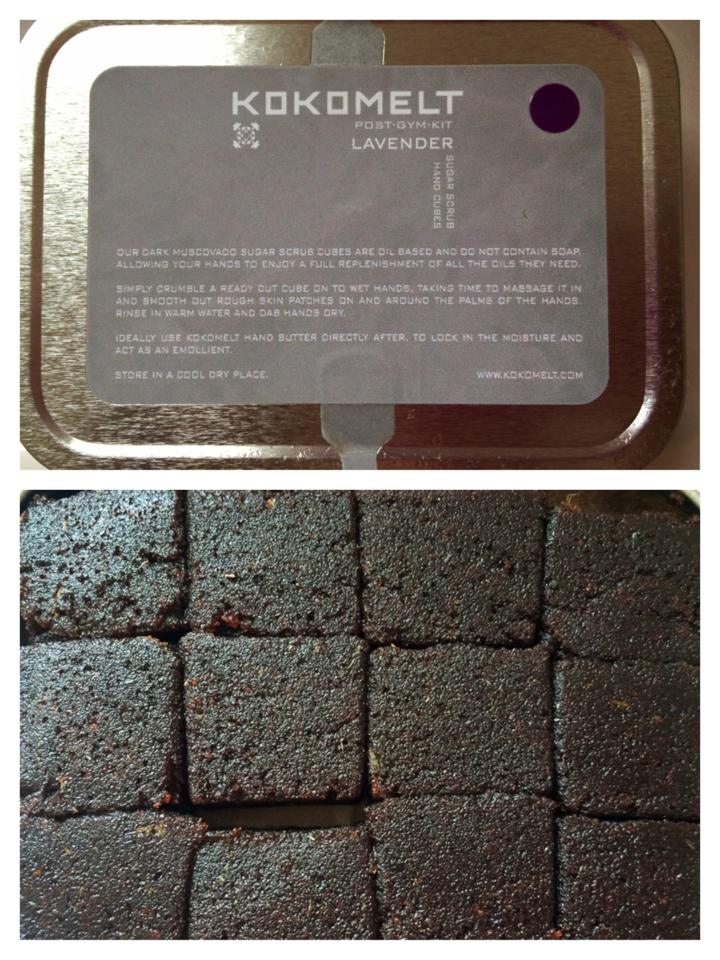 These cubes come in a handy, sturdy metal case and the aroma is incredible! I didn't even have to open the case to smell the incredible aroma!
They are cute little cubes and have great essential oil in them. I used to work at Lush cosmetics so know my stuff about essential oils. Lavender is very soothing and calming.
The cubes contain plenty of oil and a little goes a very long way. I do believe they are ment for hands but I decided to use them all over my body in the shower and wow! My skin was incredibly soft afterwards for the entire day. Doing ballet you get sweaty lol and your pores get blocked. So making sure you have a good exfoliate on a regular basis is key to keeping your skin soft and clear and getting rid of any impurities.
I have sensitive skin but my skin was fine with them. I even use some on my face just to give them a real test out to see how they would react on sensitive skin. I'm pleased to say even my face handled them 🙂
Just grab a cube, have moist hands and mush between your hands and scrub! Simple 🙂 ideal for on the go too.
I personally would like to see Kokomelt bring out some shower scrub gels in the future if possible.