First Pointe Shoe Fitting – Vlog
Anglia Region Theatre School had me down for the weekend recently to offer dancer's their first pointe shoe fitting experience. I decided to film a vlog all about it!
If you have ever been curious what it feels like to go en pointe for the first time, then this video is a must watch!
I offer thorough, in depth pointe shoe fittings at my fitting room and also further afield as I travel to dance schools and dancer's homes directly! You can find more information by clicking here!
Having a first pointe shoe fitting is a very special experience. Dancers strive for years working hard on technique, strength, alignment, turn out and more to be able to get the go ahead to get pointe shoes.
As a pointe shoe fitter, I also offer pre pointe assessments. Where I go to assess each student using a variety of techniques to decide whether or not a dancer should be going onto pre pointe and wearing demi pointe shoes (also known as soft blocks). Or, if she can go en pointe.
Teachers have found this to be very beneficial. Because it also takes away the stress and pressure they sometimes receive from dancers and their parents to attempt putting dancers on to pointe when not ready.
Assessing dancers individually is very crucial. Not every dancer will be ready in one go in one group.
Getting the right pointe shoes that offer the correct support, alignment, comfort and look for a dancer is quite a science. A first pointe shoe fitting should take 1 hour at least.
When a dancer gets first pointe shoes she should build up the time spent in them. Usually dance schools will do a 15 minute – 30 minute pointe class per week at first.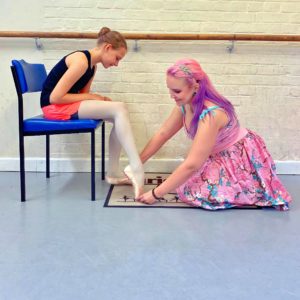 Find me on:
– Facebook: click here
– Instagram: click here
– YouTube: click here